Book Review: Kitty Hawk and the Curse of the Yukon Gold by Iain Reading | Following Dreams by Forming a Friendship While Taking down Bad Guys Ft. Planes
After leaving her home in the western Canadian fishing village of Tofino to spend the summer in Alaska studying humpback whales Kitty finds herself caught up in an unforgettable adventure involving stolen gold, devious criminals, ghostly shipwrecks, and bone-chilling curses. Kitty's adventure begins with the lingering mystery of a sunken ship called the Clara Nevada and as the plot continues to unfold this spirited story will have armchair explorers and amateur detectives alike anxiously following every twist and turn as they are swept along through the history of the Klondike Gold Rush to a suspenseful final climatic chase across the rugged terrain of Canada's Yukon, the harsh land made famous in the stories and poems of such writers as Jack London, Robert Service and Pierre Berton. It is a riveting tale that brings to glorious life the landscape and history of Alaska's inside passage and Canada's Yukon, as Kitty is caught up in an epic mystery set against the backdrop of the scenery of the Klondike Gold Rush.
Discussion
4/5 stars
Whale hello there! I am back again with another book review, which just happens to have a GIF that you can laugh at later when it makes sense. I decided to sit down and write while watching an old episode of Will & Grace because I am bored and need to write 40,000,000 posts before I die. Not that I need to rush or anything.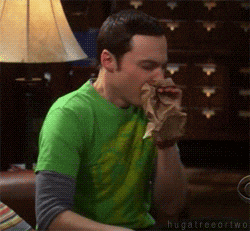 Anyway, I decided to write this review on a whim, which I find to relate to this story as the main character, Kitty Hawk, is thrown into an adventure she never planned on taking. Like Kitty Hawk, I love planning every single move I make every single day. I have planners, lists, time slots, journals and so many more pieces of paper and reminders on my phone just to set me on track for the day. However, also like Kitty Hawk, I was swept into an engrossing adventure that would not let me go to take notes, eat dinner, nor sleep. Also, as I did not write any notes, all of these words that are being vomited onto this page are coming from my memories of this book. Enjoy!
Kitty Hawk wants to be the best pilot out there, and she has the name for it as her name comes from the town where the Orville brothers flew the first airplane. She also has a fascination with whales(GIF comes into play right about now); so, when she has the opportunity to fly in Alaska to study humpback whales, she jumps into her plane, flies to Alaska, and begins her studies immediately. Little does she know that on one of those days she will begin an adventure like no other. When Kitty Hawk is flying her plane one day, which has one of the cutest names ever(however, I cannot remember it as I have no notes), she sees something that intrigues her and decides to fly over to the mysterious object. Also, she has heard of a robbery occurring so that also intrigues her. During this particular time, I was in school so I could not scream at the top of my lungs for Kitty Hawk to contact the authorities and tell them that there looked to be some men with a big pile of gold sitting around a fire. I usually have to let my frustrations out when a person, who is usually from a Gryffindor ascent, goes to do something dangerous with a heavy load of suspicion in the pit of their stomach; however, as I was in school a.k.a. the most judgmental place on Earth, I had to sit in my desk silently and deal with it.
Once the adventure began, I wish it had never ended. I really enjoyed going through the terrain of Alaska. Iain Reading is very descriptive with his writing, and he is easy to follow. I also liked reading the conversations that Kitty had with others as she would learn about the history of Alaska's gold rush, Canada, and other interesting topics to use as conversation starters. Just imagine me walking around talking to people(haha!) about Alaska's gold rush. I will be the best conversation starter in the world. Also, the friendship that formed in this book is so heartwarming. I wish I could spend more time with those characters.
Now, onto some negativity! I have always found myself saying no book is perfect, because when is a book perfect? Not everyone can love or hate a book in the same way. Well, unless if we are all twins with the same mindsets and we all live in different dimensions that form the solar systems. Give me the paper bag! One of the reasons on why I did not rate this book 5 stars was because the story seemed to be told younger than it probably should be considering that Kitty is 19. This is a young adult novel; however, it can be read like a middle grade and even younger. This aspect may have also influenced a few other things too, such as the friendship that was formed. While Kitty Hawk was kept as prisoner to a group of guys hunkered down in the woods, she started to crack some jokes and talk a little to her captors. After a couple days of this, a friendship emerged and unbreakable bonds had formed. It was as if an insta-love relationship occurred. Also, this book is very slow in the beginning, but after the story progressed, the pace jump-started and went faster to unfold a great story.
In conclusion, this has been a review of Iain Reading's Kitty Hawk and the Curse of the Yukon Gold. I know this is a mouthful to say(I dare you to say it five times fast) and a handful to write; however, I had fun writing this review. It might have taken a while to get the right words on the page, but I am always grateful to be able to talk to you guys about books, like this one in particular, and my love for them. Yes, that was a little sappy, but back to business. Just like I have written before, this book isn't perfect but it did its job. It entertained me. I had a great time learning more about airfare and adventures based on family mysteries. I cannot wait to continue Kitty Hawk's adventures in the next installments.
*Received a copy from Book Publicity Services and the author in exchange for a honest review.
Love,
newbookcats
What is an adventure that whisked you away from more important matters, fictional or true? Do you know any good conversation starters? Have you visited Alaska or Canada before? What elements make up your perfect book? What super long book title can you say 5x fast? Chat with me in the comments below or on any of my social medias!
Goodreads
Google+
Instagram
Twitter