Book Review: Tiger vs. Nightmare | A Heartwarming Friendship That Includes Punching the Nightmares Away
Tiger is a very lucky kid: she has a monster living under her bed. Every night, Tiger and Monster play games until it's time for lights out. Of course, Monster would never try to scare Tiger—that's not what best friends do.
But Monster needs to scare someone…it's a monster, after all. So while Tiger sleeps, Monster scares all of her nightmares away. Thanks to her friend, Tiger has nothing but good dreams. But waiting in the darkness is a nightmare so big and mean that Monster can't fight it alone. Only teamwork and a lot of bravery can chase this nightmare away.
In this charming graphic novel for young readers, cartoonist Emily Tetri proves that unlikely best friends can be an unbeatable team, even
against
the scariest monsters.
Discussion:
5/5 stars
Everyone experiences nightmares throughout one's life. Even when you are little, you can have a nightmare that causes you to wake up with cold sweats and screaming bloody murder. I have always endured nightmares about college. It's never about moving away from home or the constant scary decisions I will have to make for my life once I am at college. My nightmares are filled with failing to get into a good college with a substantial amount of scholarship money so then my parents are not forced into debt. There are many ways around that ending though. There is financial aid. I can also apply for a job as well to help with the costs. But those ideas and many others never stop my fears of not getting into one of my dream schools. Nightmares and fears of my younger self depicted in a graphic novel is probably what interested me; however, just like the answer to the question of how many licks it takes to get the center of a tootsie pop, the world may never know.
Next, Tiger is also going through a tough time. Although her troubles may not include her financial stability during a high stressed time in her life, monsters under the bed are still scary. I still remember when I had my grandmother close the creaky closet door shrouded in darkness while I was staying with her because I was scared that a ghost (my fear of my youth) would come and drag me to hell. That imagery may not scare anyone today due to the many movies about married couples moving into houses, which someone who wants revenge died in, and then traveling to hell and back; however, as a five year old, I was chicken of anything I did not know anything about. Meanwhile I shudder at my nightmares, Tiger beats them with the power of friendship. She never lets anything get in her way.
This story, in a way, deals with stereotypes. When one thinks of monsters, one probably thinks of Monsters, Inc.'s Sullivan before he meets Boo.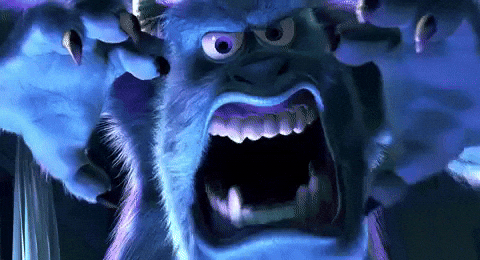 I know, it's pretty scary to see that Sully is the monster I think about in my nightmares. Anyway, while I may think that monsters must be scary and have no life since all they want to do in life is scare (mostly) innocent children, these monsters may not want to be like the scary monsters they have been told to act like. Maybe, they are like Mike (again, with the Monsters, Inc. reference) and may not want to scare anyone. Monster is like Mike in that she doesn't want to scare Tiger, just her nightmares. Monster shows me that you cannot judge a monster just by its face.
Tiger vs. Nightmare taught me not let myself not get trapped by my nightmares and other fears; instead, I should embrace them, and if my troubles ever get too much, I can always go to my family and friends, whom I am so thankful to have. This book hit me hard due to the wonderful friendship that showed the power of friendship. That last sentence sounds redundant because friendships show the power of friendship; however, not all friends are as great as Tiger and Monster. I highly recommend this book to any kid (or grown-up) who needs a good monster to scare the nightmares away. Plus, this book has such great illustrations of Tiger and Monster whom I just want to hug right now! <3
Thanks for reading, and I hope you enjoy your day!
Love,
newbookcats
Goodreads
Google+
Instagram
Twitter