2018 Books I Want That I REALLY REALLY Want
As 2017 is sadly coming to an end, 2018 is approaching quickly. It may be coming a little too quickly now that I think about it. Hmm, I will have to rub my chin with my nonexistent beard later as I am discussing something other than time. So, along with the coming of a new year, new books are being presented to readers everywhere. Even though we can drool on our computers and can whine in agony, I still want the books now! However, I will wait for my new babies(or books! I am not weird) to come out into the world with fresh new pages and an unbroken spine. Ah, I'll wait with a nice slurp of tea, if I please.
I
WILL
WAIT!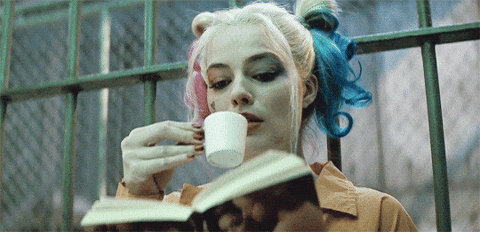 From
GIPHY
Since I am very evil and a super villain in-training, I will force everyone to suffer by letting everyone learn about the books that are going to be the top of almost everyone's tbr pile! MUAHAHAHA!😈*cough, cough, cough* I must perfect my evil laugh soon but not now as it is BOOK TIME!
Presenting...
Books I Am Really Super-Duper Excited for in the Year 2018!
The Cruel Prince
by Holly Black
Release Date: January 2, 2018
Holly Black's latest release is probably the most wanted book for the year of 2018. Can you blame anyone, though? Dozens of authors and big time book bloggers/reviewers/photographers have called it a masterpiece and several other beautiful words to describe this piece of art. Whenever I first heard about this new addition to Holly Black's works, I immediately got excited due to the tons of publicity, such as other readers' praise, and the news that Universal Pictures has picked up
The Cruel Prince
's movie rights. What is a girl supposed to do to get this beautiful book? I do not just want, but I need it(like all the other books on this list).
Batman: Nightwalker
by Marie Lu
Release Date: January 2, 2018
From the mind of Marie Lu, comes another book about action, adventure, and what seems to be awesomeness. Beginning to write fiction from the age of 15, Lu has not seemed to stop. This year, Leigh Bardugo began the start of the D.C. Icons Quartet with
Wonder Woman: Warbringer
, and the praise for this book and the other books soon to be released has not stopped. Also, I have heard so much praise for Lu's other books, so it makes me want to pick up one very soon.
The Belles
by Dhonielle Clayton
Release Date: February 6, 2018
The Belles
has been widely discussed since the first time it was announced. In a world full of beauty, which is both coveted in our world and this fictional world, Camellia is an over-achiever in beauty for the group called the Belles. She wants to be the best, which lets her become royalty. I love castles and seeing the corruption that sometimes royalty can have, so reading this kind of drama would be really fun. I am getting more excited for this book as I am writing this so I may need it now.😏😎
The Burning Maze
by Rick Riordan
Release Date: May 1, 2018
For every Rick Riordan book released now a days, I get really excited and look out for it for months. Since this addition to The Trials of Apollo series is all about Apollo and his trials, I am SOOOO excited for this! Like Clare's
Queen of Darkness
and Black's
The Cruel Prince
, I need it now!
Zenith
by Sasha Alsberg and Lindsey Cummings
Release Date: January 16, 2018
Many people watch YouTube. Whatever age one may be, many seem to find themselves on YouTube due to school, fancy, or pure boredom on every Saturday night. "I am definitely not speaking from experience," I say sarcastically. No, this is me every night, and I would say every hour and every minute of my short, meaningless life; however, I always eventually get bored of it. The rabbit-hole that I get sucked into is BookTube, or the part of the internet that includes books. One of the booktubers I watch is
Sasha Alsberg
who is now an author of a retelling of Bloody Baroness in space. Not only does the story sound intriguing, but I am also extremely happy that Alsberg is following her dream of becoming an author(even though it might have come true due to her fame).
Children of Blood and Bone
by Tomi Adeyemi
Release Date: March 6, 2018
Like the other books on this list, this book has been getting endless praise. I have seen the cover and love it. This is all I have to say because I have so much hope for this book to be good!
War Storm
by Victoria Aveyard
Release Date: May 15, 2018
The fourth and the final book of the
Red Queen
quartet is coming to town in May. I cannot wait to read this final book, but I am a little apprehensive as the last two books have been diagnosed with...MIDDLE BOOK SYNDROME!😭 Although the two books may have this itsy-bitsy problem*loudly shoots snot into a tissue*, I am excited for the end of this quartet. Now, I just need to find a way to read it now!
*currently plots on how to destroy the world and still get
War Storm
*
*rubs hands together and manically laughs*
*manically laughs while making post longer*
😈😈😈😈😈😈😈😈😈😈😈😈😈😈😈😈😈😈😈😈😈😈😈😈😈😈😈😈😈
Ruin of Stars
by Linsey Miller
Release Date: August 1, 2018
I cannot wait for this one! I want it right now! I guess I know what my future is going to look like: robbing book publishing companies of early release copies of my most anticipated books because I want them SSOOOOOOOO badly!
*rubs chin with nonexistent beard and thinks it is a great idea*
Also, since I have done a
review
on the first book Mask of Shadows, which you can read, you can become excited for it too! Please save the applause and gratitude for later because I have books on the road!(I literally have books on the road right now as I am trying to take the perfect
bookstagram
photo!)
The Lady's Guide to Petticoats and Piracy
by Mackenzie Lee
Release Date: October 2, 2018
So, you know that amazing hyped book that just appeared out of nowhere? Well, that book
The Gentleman's Guide to Vice and Virtue
is getting a sequel(or is it a companion novel? not sure.)! It is time for a celebration as I ADORED
The Gentleman's Guide to Vice and Virtue
. Wow, that is a mouthful to say; however,
The Lady's Guide to Petticoats and Piracy
is not short either. I cannot wait for this addition as Felicity is getting her own adventure aboard a pirate ship! Have I mentioned I love pirates?! Sailing across the ocean sea, making one's own rules, and not getting a bedtime sounds like the best reasons why someone should become a swash-buckling pirate! Although I may not be able to become a mighty pirate who sails across the seven seas with no bedtime, I will read Felicity's adventures through Lee's witty and gorgeous words.
Queen of Air and Darkness
by Cassandra Clare
Release Date: December 19, 2018
Ohmygosh! Ohmygosh! OHMYSTINKIN'GOSH! This is really happening! What am I going to do with my life for the next year? If there is any way I can somehow jump into the future or get an early release copy, I would do it, especially if I had to sell my soul as it will no longer be in my body after I finish this book. Until then, I will have to read every other book in the world, and then I will be able to go back to my home planet until the next Shadowhunter book is published.
In conclusion, these seem to be the only books I am excited for...RIGHT NOW! ! Probably, as 2018 comes closer and becomes a reality, more books will be announced, making this list grow longer(and taller than the Leaning Tower of Pisa! I cannot wait until each of these release dates! Until next time, bye!
Thank you for reading, and I hope you enjoy!
Love,
newbookcats
What are your most anticipated books for 2018? Any of them on this list? Would you like to join me on my evil quest of trying to get ARCs? Talk to me in the comments below or on any of my social medias.
Goodreads
Google+
Instagram
Twitter